The Self-Sovereign Identity (SSI) movement is gaining momentum
New projects, integrations, and businesses are starting to emerge to leverage Atala PRISM. Most prominently, it is IOG itself, which is collaborating with the Ministry of Education in Ethiopia to get students all over the country onboarded onto Atala PRISM. The US network provider DISH is in the process of rolling out their customer loyalty program based on PRISM, World Mobile is using DIDs in their network infrastructure and many other projects (in and outside of Catalyst) are on the verge of using PRISM in production – so the statements read.
But what's happening behind the curtain? How many DIDs are there on the Blockchain? Does it really get used? What are the trust relationships between entities?
The blocktrust analytics tool
With blocktrust analytics, we present a web-based analysis tool that can be used to answer the above questions. The tool is divided into three main sections:
The statistical overview, with already prepared live generated reports, to get an overview of the actual usage of PRISM.
An analysis area to get to the bottom of certain specific questions that are relevant for individual users, companies, developers. E.g.: How many credentials were issued by this DID? How many DIDs associated with this DID show engagement in the last 30 days?
A graph view to perform dedicated analysis and investigate trust chains in complex networks.
The capabilities
First of all blocktrust analytics is a public website that displays the most important statistical information of all PRISM-related operations from the testnet/mainnet in real-time. It also provides the ability to quickly search for DIDs to get an overview over the publicly available information. Additionally, there is a secure private area (login with DID: already implemented by us as a proof of concept -> blocktrust identity wallet). Here the user is able to specify multiple set of DIDs, import VCs and manage and execute more complex queries. This private area is subdivided into:
an area for statistical information on the given sets of DIDs and a timeline of the DIDs/VCs that are being analyzed. As well as engagement metrics, usage, etc.
A graph view to examine individual trust chains.
Graph view
The graph-view allows to get a holistic view of the network using information available on the blockchain (DIDs) and imported information (Verifiable Credentials and Trust-Registries). This allows deep analysis of the behavior of entities as well as ensuring the integrity of trust chains.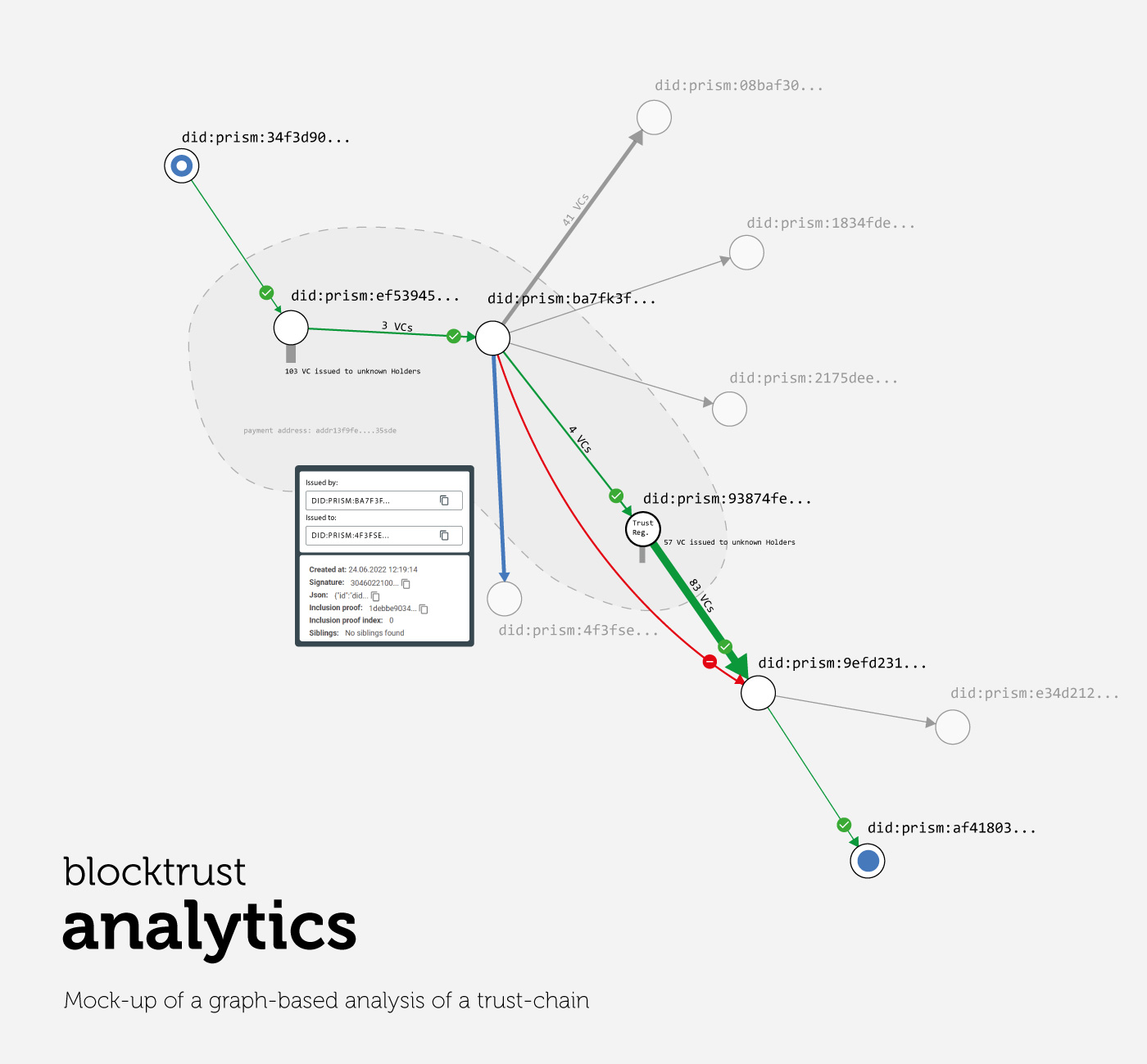 Click to enlarge: graph-view of a selected trust-chain for analysis